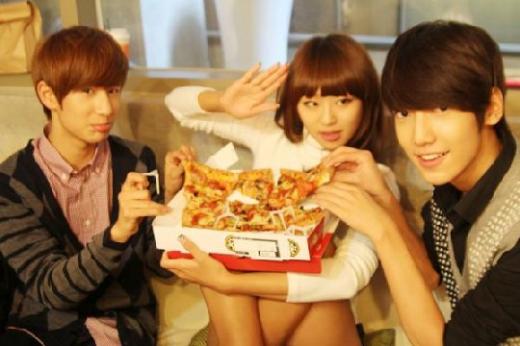 SISTAR
's
Hyorin
shared a funny selca taken with two
Boyfriend
members,
Minwoo
and
Kwangmin
.
On November 4th, Hyorin tweeted,
"Don't touch my pizza! lol 'Don't Touch My Girl' is popular these days, right?"
Since SISTAR and Boyfriend are under the same company, Hyorin is showing some support for her labelmates, who are currently promoting, "Don't Touch My Girl". As for the photo, she made fans laugh by the faux angry face and half-raised hand, as if she were ready to smack away the offender.
Netizens wrote,
"It looks like something bad might happen if you touch the pizza lol", "Nuna can buy you boys over 10 pizza pies…", "Hyorin is cute, Minwoo is cute, and so its Kwangmin", "'Don't Touch My Girl' is a hit these days".
Source: Star News
Via :allkpop