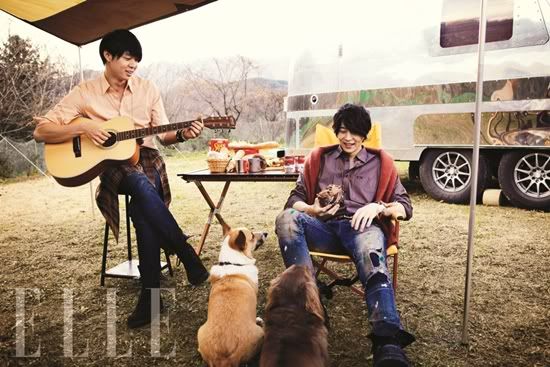 JYJ, Song Ji Hyo and Park Yoohwan participated in ELLE's charity project "Share Happiness" and images from the December issue of the magazine which is to be released on 21 November were revealed.
Doing their first photoshoot together, brothers Park Yoochun and Park Yoohwan could not hide their happiness. After completing the shoot with his brother, Park Yoohwan immediately sent their mother the images, and said in an interview, "I am very honored to shoot with my seniors."
Personnel from ELLE magazine said,
"Despite the fact that this shoot was done the day after the European tour, Kim Jaejoong personally drove down to the shooting location 30 minutes early, and moved equipment together with the staff, touching everybody's hearts."
Also,
"He was like a team leader, taking care of the location and keeping up the atmosphere, and displayed a cheerful image even during the breaks, leaving a deep impression."
JYJ's Kim Junsu said,
"Ji Hyo noona is the only female actress I am close to."
And Song Ji Hyo also talked about her feelings on the shoot, saying "This is the first time shooting with my labelmates, and I find it really meaningful that we got to spend time together."
The full photoshoot for "Share Happiness" will be revealed in the December issue of ELLE, in a 26-page editorial. It will be also be revealed via the ELLE and C-JeS websites from 26 November.
Source : [BaiduTVXQ + Newsen via Nate]
Translated & Shared by : dongbangdata.net
Via Yochun sharing