Starting from the month of July,
H2 Media
has been gradually releasing pictures of their new 5-member group through Twitter. With 3 members revealed previously, they have finally released the pictures of the last 2 members of the group.
The group, who used to be known as
Hwanhee's Boys
, will debut under the name of
MYNAME
sometime in October.
The members consist of
Seyong
,
Insoo
,
JoonQ
,
Chaejin
, and
Gunwoo
, whose birth years range from 1995 to 1988.
The first revealed member, Seyong, is known to be a rapper and a skilled dancer whose rap has been featured in Hwanhee's
"Love You Love You"
, and served as Hwanhee's dancer for
"I Feel Like I'm Going to Die"
. He has also been in the spotlight recently for having been friends with
JYP
idol group members.
The second member Insoo (1988) is rumored to be a talented dancer and choreographer, who possess powerful vocals and boasting a height of 6′ (180 cm). He has also been under the spotlight for having similar features as
JYJ
's
Junsu
.
The third Member JoonQ (1993) also standing at 6′ (180 cm) tall is a powerful rapper and has been called
Lee Seung Gi
's doppleganger.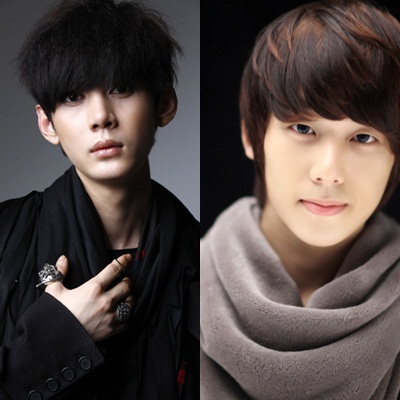 The last two members revealed, Chaejin and Gunwoo, give off complete opposite vibes. Chaejin (1995) has that cute, innocent charm which suits his maknae image. He is a sub-vocalist in the group.
Gunwoo, being the leader, exhibits a much stronger, charismatic image in contrast to Chaejin's softer image. He will be the main vocalist of the group.
H2 Media stated,
"A spectacular performance and song has been prepared that incorporates the strengths and charms unique to MYNAME. As the debut date approaches, the members have been practicing hard… They aim to become the most anticipated rookie group of 2011."
Stay tuned to
allkpop
for more details about this upcoming group!
Source : allkpop
Osen
,
Mydaily
,
WStarnews
,
TV Report
,
Naeil,